Come run with us

Come socialise with us
Swindon Striders
We are a friendly road and trail running club based in Swindon. Created in 1995 by a small group of recreational runners we have always aimed to welcome all levels and type of runner. So whether you just want to get fit in the fresh air, meet like minded people or want to train hard for that next race there are runners of all types at the club.
The club meets on Monday and Friday evenings with different paced groups running between 4 - 7 miles. There are also more structured coach lead interval and conditioning training sessions on Wednesday evenings.
Members also organise more informal runs during the week and at the weekend, with cake and pastries often featuring afterwards.
If you would like further details about our club please contact one of our committee members via membershipstriders@gmail.com
Or Visit the Swindon Striders public Facebook Page
Croft Leisure Centre
Mondays
6:45 pm
Croft Leisure Centre, Croft Sports Centre, Marlborough Lane, Swindon, SN3 1RA


Link Centre
Fridays
6:45 pm
Link Centre, Link Centre, Whitehill Way, Swindon SN5 7DL (meet car park by The Harvester)


Upcoming Events
RUNvember Club Run #2
November 27, 2023
6:45 pm


Croft Sports Centre, Marlborough Lane, Swindon, SN3 1RA


Come and run with us and special guest, Alan Butler, to celebrate/support RUNvember.

The route will be 4-5 miles with a short option for those returning to running.

If you're doing RUNvember wear your number (great photo opportunity!) and there will be a donation box for contributions.

Meet 6:30 for 6:45 run
Christmas Curry Night/Party
December 2, 2023
8:30 pm


Biplop, Wood Street, Old Town


"All I want for Christmas is....a Striders' Party!!"

This year's Christmas Party is a meal at Biplop, Old Town at 8.30pm. Cost of the meal will be £30 per person, plus whatever you drink. For that you will get a selection of curries to choose from including rice, naans and poppadoms.

Partners are very welcome.

Please speak to a member of the committee if you have any questions.

Let us know asap by email if you are coming so we can confirm numbers with the restaurant.
Members
Annual membership fees are £30 for 2023_24. Membership includes registration with England Athletics (Registration No 2658659) so you get reduced race entry fees and you are covered by their Public Liability Insurance.
Club Kit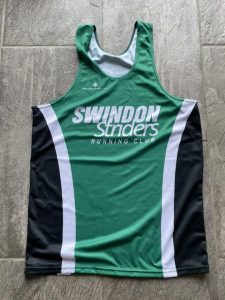 Vest £20.00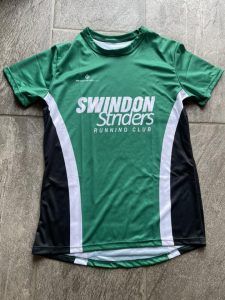 Short Sleeved Shirt £22.00
Club Records
Womens Club Records
+
Womens Open
| Distance | Name | Age on day | Time | Date | Venue |
| --- | --- | --- | --- | --- | --- |
| 5 Km | Fiona Gordon | 46 | 00:20:02 | 14/01/2016 | Greg Simpson 5KM Handicap |
| 5 Miles | Fiona Gordon | 42 | 00:33:12 | 11/06/2011 | Broad Town 5 |
| 10 Km | Stephanie Knott | 27 | 00:40:37 | 11/06/2014 | Lethbridge |
| 10 Miles | Carole Phillips | 47 | 01:08:42 | 04/10/2009 | Oldbury Power Station 10 |
| Half Marathon | Carole Phillips | 43 | 01:30:25 | 19/03/2006 | Bath |
| 20 Miles | Helen Audrain | 26 | 02:26:53 | 02/03/2008 | Gloucester |
| Marathon | Carole Phillips | 45 | 03:14:36 | 13/04/2008 | London |
Womens 35+
| Distance | Name | Age on day | Time | Date | Venue |
| --- | --- | --- | --- | --- | --- |
| 5 Km | Claire Smith/Hall | 38 | 00:20:46 | 20/05/2009 | Back in a Flash |
| 5 Miles | Hayley Lewis | 39 | 00:33:53 | 07/04/2019 | Higworth 5 |
| 10 Km | Hayley Lewis | 38 | 00:42:24 | 19/11/2017 | Swindon |
| 10 Miles | Hayley Lewis | 38 | 01:09:02 | 11/02/2018 | Wiltshire 10 |
| Half Marathon | Hayley Lewis | 39 | 01:34:23 | 10/06/2018 | Lacock |
| 20 Miles | Jackie Uzzell | 37 | 02:47:46 | 09/03/1997 | Gloucester |
| Marathon |   |   |   |   |   |
Womens 40+
| Distance | Name | Age on day | Time | Date | Venue |
| --- | --- | --- | --- | --- | --- |
| 5 Km | Fiona Gordon | 42 | 00:20:11 | 01/09/2010 | Coate Water |
| 5 Miles | Fiona Gordon | 42 | 00:33:12 | 11/06/2011 | Broad Town 5 |
| 10 Km | Fiona Gordon | 42 | 00:41:38 | 21/11/2010 | Swindon |
| 10 Miles | Geri Taylor | 42 | 01:11:03 | 19/04/2019 | Good Friday Chippenham 10 |
| Half Marathon | Carole Phillips | 43 | 01:30:25 | 19/03/2006 | Bath Half |
| 20 Miles | Annabel Billett | 40 | 02:39:22 | 20/02/2011 | Bramley 20 |
| Marathon | Geri Taylor | 42 | 03:22:13 | 28/04/2019 | London |
Womens 45+
| Distance | Name | Age on day | Time | Date | Venue |
| --- | --- | --- | --- | --- | --- |
| 5 Km |  Fiona Gordon | 46 | 00:20:02 | 14/01/2016 | Greg Simpson 5KM Handicap |
| 5 Miles |  Fiona Gordon | 46 | 00:33:14 | 12/04/2015 | Highworth 5 |
| 10 Km |  Fiona Gordon | 45 | 00:41:51 | 23/02/2014 | Wangaratta 10K (Australia) |
| 10 Miles | Carole Phillips | 47 | 01:08:42 | 04/10/2009 | Oldbury Power Station 10 |
| Half Marathon | Carole Phillips | 46 | 01:29:23 | 16/11/2008 | Gosport Half |
| 20 Miles | Carole Phillips | 47 | 02:24:18 | 01/02/2010 | Bramley 20 |
| Marathon | Carole Phillips | 45 | 03:14:36 | 13/04/2008 | London |
Womens 50+
| Distance | Name | Age on day | Time | Date | Venue |
| --- | --- | --- | --- | --- | --- |
| 5 Km | Caroline McBeth | 51 | 00:21:13 | 04/06/2013 | Melksham 5K |
| 5 Miles | Caroline McBeth | 50 | 00:36:02 | 16/06/2012 | Broad Town 5 |
| 10 Km | Caroline McBeth | 51 | 00:44:23 | 06/10/2013 | Cricklade |
| 10 Miles | Caroline McBeth | 50 | 01:14:15 | 29/03/2013 | Maidenhead |
| Half Marathon | Caroline McBeth | 51 | 01:38:02 | 15/09/2013 | Bristol Half |
| 20 Miles | Jude Rouse | 51 | 02:32:00 | 01/02/2005 | Bramley 20 |
| Marathon | Jude Rouse | 52 | 03:30:39 | 17/04/2005 | London |
Womens 55+
| Distance | Name | Age on day | Time | Date | Venue |
| --- | --- | --- | --- | --- | --- |
| 5 Km | Caroline McBeth | 55 | 00:22:15 | 08/08/2017 | Heddington 5K |
| 5 Miles | Caroline McBeth | 57 | 00:38:19 | 07/04/2019 | Highworh |
| 10 Km | Caroline McBeth | 55 | 00:45:52 | 19/11/2017 | Swindon |
| 10 Miles | Caroline McBeth | 56 | 01:19:39 | 30/03/2018 | Good Friday 10 |
| Half Marathon | Caroline McBeth | 55 | 01:41:47 | 04/09/2017 | Swindon |
| 20 Miles |   |   |   |   |   |
| Marathon | Caroline McBeth | 56 | 04:08:56 | 26/05/2018 | Edinburgh |
Womens 60+
| Distance | Name | Age on day | Time | Date | Venue |
| --- | --- | --- | --- | --- | --- |
| 5 Km | Caroline McBeth | 60 | 00:23:41 | 05/11/2022 | Lydiard Parkrun |
| 5 Miles | Caroline McBeth | 60 | 00:39:57 | 18/06/2022 | Broad Town |
| 10 Km | Caroline McBeth | 60 | 00:50:32 | 16/04/2023 | Newport |
| 10 Miles | Jackie Sayer | 60 | 1:24:31 | 15/10/2023 | Great South Run |
| Half Marathon |   |   |   |   |   |
| 20 Miles | Caroline McBeth | 60 | 3:00:47 | 19/03/2023 | Hullavington 20 |
| Marathon | Jackie Sayer | 60 | 4:12:29 | 23/04/2023 | London |
Womens 65+
| Distance | Name | Age on day | Time | Date | Venue |
| --- | --- | --- | --- | --- | --- |
| 5 Km | Caroline Boulton | 67 | 23:08 | 21/01/23 | Lydiard Parkrun |
| 5 Miles |   |   |   |   |   |
| 10 Km |   |   |   |   |   |
| 10 Miles |   |   |   |   |   |
| Half Marathon |   |   |   |   |   |
| 20 Miles |   |   |   |   |   |
| Marathon |   |   |   |   |   |
Mens Club Records
+
Mens Open
| Distance | Name | Age on day | Time | Date | Venue |
| --- | --- | --- | --- | --- | --- |
| 5 Km | Matt Blackmore | 25 | 00:17:03 | 02/09/2009 | Back in a Flash |
| 5 Miles | Martin Davis | 29 | 00:27:12 | ?/06/2004 | Didcot |
| 10 Km | Kev Smith | 48 | 00:35:02 | 19/11/2017 | Swindon |
| 10 Miles | John Lewis | 39 | 00:57:53 | 12/02/2017 | Wiltshire 10 |
| Half Marathon | Martin Davis | 30 | 01:15:48 | 06/03/2005 | Reading |
| 20 Miles | Kev Smith | 48 | 02:01:31 | 20/03/2018 | Gloucester 20 |
| Marathon | Kev Smith | 49 | 02:47:37 | 29/04/2018 | Newport |
Mens 40+
| Distance | Name | Age on day | Time | Date | Venue |
| --- | --- | --- | --- | --- | --- |
| 5 Km | Tim Osman | 44 | 00:18:05 | 03/09/2008 | Back in a Flash |
| 5 Miles | Mick Willis | 40 | 00:29:59 | ??/06/2000 | Broad Town 5 |
| 10 Km | John Lewis | 40 | 00:35:33 | 19/11/2017 | Swindon 10km |
| 10 Miles | John Lewis | 40 | 01:00:14 | 11/02/2018 | Wiltshire 10 |
| Half Marathon | Neil Pringle | 40 | 01:18:?? | ??/01/2000 | Highworth |
| 20 Miles | Neil Pringle | 41 | 02:10:05 | 25/03/2001 | Worthing |
| Marathon | Peter Gilder | 40 | 03:01:36 | 22/04/2012 | London |
Mens 45+
| Distance | Name | Age on day | Time | Date | Venue |
| --- | --- | --- | --- | --- | --- |
| 5 Km | Kev Smith | 48 | 00:17:37 | 26/08/2017 | Swindon Parkrun |
| 5 Miles | Corin Wiltshire | 45 | 00:29:16 | 12/04/2015 | Highworth 5m |
| 10 Km | Kev Smith | 48 | 00:35:02 | 19/11/2017 | Swindon |
| 10 Miles | Kev Smith | 48 | 00:59:04 | 11/02/2018 | Wiltshire 10 |
| Half Marathon | Kev Smith | 48 | 01:18:46 | 04/09/2017 | Swindon |
| 20 Miles | Kev Smith | 48 | 02:01:31 | 20/03/2018 | Gloucester 20 |
| Marathon | Kev Smith | 49 | 02:47:37 | 29/04/2018 | Newport |
Mens 50+
| Distance | Name | Age on day | Time | Date | Venue |
| --- | --- | --- | --- | --- | --- |
| 5 Km | Chris Skyes | 51 | 00:17:12 | 20/05/2009 | Back in a Flash |
| 5 Miles | Chris Skyes | 50 | 00:27:37 | 14/06/2008 | Broad Town 5 |
| 10 Km | Kevin Smith | 50 | 00:36:09 | 17/11/2019 | Swindon 10K |
| 10 Miles | Peter Sweeney | 50 | 01:07:33 | 15/02/2015 | Wiltshire 10m |
| Half Marathon | Kevin Smith | 50 | 01:19:03 | 23/02/2020 | Wokingham Half |
| 20 Miles | Peter Sweeney | 50 | 02:26:44 | 10/03/2015 | Gloucester 20 |
| Marathon | Kevin Smith | 50 | 02:50:46 | 28/04/2019 | London |
|   |   |   |   |   |   |
Mens 55+
| Distance | Name | Age on day | Time | Date | Venue |
| --- | --- | --- | --- | --- | --- |
| 5 Km | Peter Sweeney | 57 | 00:19:29 | 14/08/2021 | Lymington Park Run |
| 5 Miles | Colin Child | 55 | 00:30:36 | 12/05/1996 | Chiseldon |
| 10 Km | Colin Child | 55 | 00:39:36 | 07/07/1996 | Sherston |
| 10 Miles | Colin Child | 55 | 01:05:23 | 14/07/1996 | Salisbury |
| Half Marathon | Peter Sweeney | 56 | 01:24:25 | 16/05/2021 | Hullavington |
| 20 Miles | Colin Child | 57 | 02:22:41 | 24/03/1998 | Gloucester 20 |
| Marathon | Colin Child | 56 | 03:11:55 | 15/06/1997 | Potteries |
Mens 60+
| Distance | Name | Age on day | Time | Date | Venue |
| --- | --- | --- | --- | --- | --- |
| 5 Km | John Gallagher | 63 | 00:21:03 | 09/07/2022 | Lydiard Park Run |
| 5 Miles | John Gallagher | 63 | 00:34:28 | 17/06/2023 | Broad Town 5 |
| 10 Km | John Gallagher | 63 | 00:42:28 | 21/06/2023 | Chippenham Longest Day 10k |
| 10 Miles | John Gallagher | 62 | 01:11:25 | 19/12/2021 | Hullavington |
| Half Marathon | Colin Child | 60 | 01:30:02 | 28/07/2001 | Swanage Half |
| 20 Miles | John Gallagher | 61 | 02:24:41 | 19/03/2023 | Hullavington 20 |
| Marathon | John Gallagher | 63 | 03:16:58 | 25/09/2022 | Berlin |
Mens 65+
| Distance | Name | Age on day | Time | Date | Venue |
| --- | --- | --- | --- | --- | --- |
| 5 Km | Andy Reade | 65 | 00:23:05 | 21/07/2012 | Park Run |
| 5 Miles | Andy Reade | 65 | 00:36:33 | 17/05/2012 | Weston Prom Run |
| 10 Km | Ed O'Dwyer |   | 00:44:56 | 20/11/2016 | Swindon 10km |
| 10 Miles | Dave Fouracre | 69 | 01:22:56 | 16/06/2013 | Kennet Kanter |
| Half Marathon | Ed O'Dwyer | 65 | 01:46:27 | 01/05/2016 | Limerick Half |
| 20 Miles |   |   |   |   |   |
| Marathon |   |   |   |   |   |
Mens 70+
| Distance | Name | Age on day | Time | Date | Venue |
| --- | --- | --- | --- | --- | --- |
| 5 Km | Andy Read | 71 | 00:26:35 | 15/04/2023 | Parkrun Lydiard |
| 5 Miles | Ed O'Dwyer | 71 | 00:41:40 | 18/06/2022 | Broad Town |
| 10 Km | Ed O'Dwyer | 71 | 00:52:06 | 15/06/2022 | Lethbridge 10k |
| 10 Miles | Dave Fouracre | 71 | 01:30:05 | 03/04/2015 | Maidenhead 10m |
| Half Marathon | Ed O'Dwyer | 70 | 01:49:33 | 16/05/2021 | Hullavington Half |
| 20 Miles |   |   |   |   |   |
| Marathon |   |   |   |   |   |
Mens 75+
| Distance | Name | Age on day | Time | Date | Venue |
| --- | --- | --- | --- | --- | --- |
| 5 Km | Dave Fouracre | 78 | 28:31 | 11/09/21 | Lydiard Park Run |
| 5 Miles | Dave Fouracre | 76 | 43:58 | 15/06/19 | Broad Town 5 |
| 10 Km | Dave Fouracre | 76 | 54:42 | 12/06/19 | Lethbridge 10K |
| 10 Miles | Dave Fouracre | 76 | 2:02:07 | 13/01/19 | Rough and Tumble |
| Half Marathon |   |   |   |   |   |
| 20 Miles |   |   |   |   |   |
| Marathon |   |   |   |   |   |